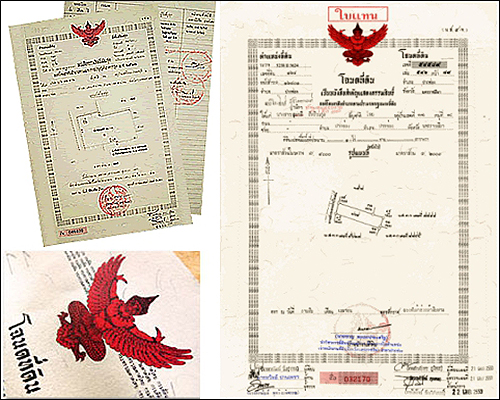 A title deed on a land or property indicates someone's rights to land (possession in case of a chanote title deed) and registered encumbrances which includes mortgages, leases, and so forth. foreign nationals aren't allowed to own even a parcel of land and therefore have no right to be named owner of land in Thailand. however, they can be registered as the holder of certain rights like lease, habitation, mortgage, usufruct or superficies, and so on.
There are four distinct kinds of title deed in Thailand used as common evidence of land ownership, ownership rights and other interests on the land and it is important to understand correctly what every title deed covers or means.
Sor Kor Nung (certificates of possession)
This certificate recognizes that the individual is in possession of land but it does not mean that there are any rights associated with the possession. It isn't transferrable but a person in possession might also transfer the physical ownership to every other individual and that individual need to apply for a brand new certificates of ownership. This is not recommended for foreign investors as they may have no rights to the land or property despite the fact that they paid for the certificates.
Nor Sor 3 Kor (showed certificates of Use)
this is a certificate confirming that the person's name acting at the certificate has the confirmed right to use the land implying that each one requirements needed for the title deed issuance were complied with and that it is pending with the Land department. Land with a Nor Sor 3 Kor title deed may be sold, leased, used as a loan collateral, etc. and the holder of this certificate cannot leave the land unattended for greater than 12 years.
Nor Sor Sam (certificates of Use)
This differs from Nor Sor 3 Kor in terms of not complying or performing the formalities to certify the right to use. A notice of intent must be published earlier than a transfer can be made and 30 days public notice is required earlier than any change of status over the land can be registered.
It is a secure practice to always ask the legal professional to check the back and front end of the property title deed so that you can see who the current proprietor is; the shape, area and orientation of the property; border to a public property along with a street, ocean or stream; and if the property has endorsements or liens. A title deed should be clean of any preceding obligations or encumbrances. otherwise the transaction have to now not push through.
To be safe, it is continually recommended to seek expert help for plans of acquiring a piece of parcel or for plans of having rights in a piece of land. A financial investment in this form of asset is pretty a venture and there are rules established by the respective government of a chosen country.
Chanote (title Deed)
that is a certificate for land ownership. a person with their name shown at the title deed has the legal right to the land, and might use it as proof to verify the right to government authorities. This identify deed suggests the official government land survey points setting the legal obstacles of the land. this is the most secure type of land title and Thailand's Land department is aiming at covering all land within the country under this title deed.